With Teeth.
Writer:Brian Keene. Narrator: Time Winters
For a group of middle-aged friends, the trip into the forest was supposed to be simple. All they had to do was find a place to set up their criminal
enterprise, and all of their financial problems would be solved. But now, night is falling, and with the darkness comes something else.
Something fast. Something ferocious. Something…with teeth.
From best-selling, award-winning horror writer Brian Keene comes a vicious new novella With Teeth.
"Time Winters gives a P-E-R-F-E-C-T performance here, astoundingly well done. I was blown away how good he was."

The Whitby Ghost Book: Hauntings Legends & Superstitions Audio Download – Unabridged
Paul Fitz-George (Author), Time Winters (Narrator)
A collection of 22 supernatural tales about the old seaport of Whitby on England's beautiful and mysterious North East Coast. Stories include tales about ghosts, vampires, the fairy folk ,and the ancient customs and superstitions of the town's sea-folk, all of which paint a suitably spectral sketch of the ghostly goings on in this famous old town over the centuries. The origins of creatures and specters from the imaginations of Bram Stoker and Wilkie Collins feature in this book, put together by the former Collector of Dues of Whitby Harbour, Paul McDermott (now Paul Fitz-George since taking his wife's prestigious family surname…a new man in every sense!). Also included in this book is the research he carried out on some of the more ancient tales of this one-time Viking, Norman, and, in particular, 18th-century ship-building port, this carried out in the famous and fascinating archives of The Whitby Literary and Philosophical Society, of which he was a member.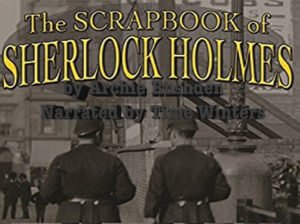 The Scrapbook of Sherlock Holmes Audio Download – Unabridged
Archie Rushden (Author), Time Winters (Narrator), MX Publishing (Publisher)
Ten new and original tales of the master detective, told by his loyal friend and assistant, Dr. Watson. The world may not yet be ready for the giant rat of Sumatra but it will assuredly be eager for these stories of murder, kidnap and theft. Here are tales of a walled-up corpse, a gun-toting American, a sealed-room with a difference, and mysterious disappearances, all in the traditional Conan Doyle style. The game is decidedly afoot, as governments totter, dark secrets are exposed, and Scotland Yard's finest stumble and blunder. There are more mysteries solved here, though, than just those brought before Sherlock Holmes – learn at last the truth of his university education, of his first paid case and even his philosophy of toast!
Return To Berlin
Return to Berlin is the long-awaited sequel to Noel Hynd's classic million-selling espionage novel, Flowers From Berlin.
It is early 1943 and the United States has been at war for more than a year. William Cochrane, an agent of the Federal Bureau of Investigation, who was the central character in Flowers From Berlin, has enlisted in the United States Army. He has the commission of a major and is at Fort Monmouth, New Jersey, training for combat.
Suddenly his military orders are countermanded by Washington. He is ordered to report immediately to General William Donovan the Office of Strategic Services in New York City. At OSS headquarters Cochrane, recently married, receives an assignment more perilous than combat. He is recruited into the fledgling wartime spy agency and assigned to travel to Europe. He is to make his way to Switzerland to meet with Alan Dulles, the Director of the OSS in Switzerland.
There, if Cochrane is lucky enough to arrive, he will receive the second part of his orders: an espionage assignment. Under an assumed identity, Cochrane will make a heart-pounding return visit to Berlin, where he lived for a while in the 1930s. There is an assignment vital to the battle against Nazi Germany that only he, with his prior knowledge of people and places in Germany, can complete if he eludes capture by the ever-vigilant Gestapo. Or, with the odds heavily against his success in this assignment, will the assignment cost him his life?
Rich in accurate historical detail, heavily evocative of the terrifying era, Return To Berlin is a fast-moving action-packed thriller.
Available at Amazon.com.